Aromatherapy Pulse Point Rollons
$7.99 ea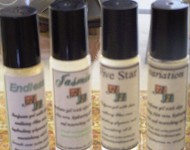 Soothing: A blend of Lavender & Vanilla sugar
Uplifting: A Blend of uplifting florals including Jasmine, Rose, Geranium & Citrus
Variation: (Unisex) An Adiva House Special Blend of Essential oils
Essential oils of Lavender, Jasmine, Rose, Peppermint, Eucalyptus
Antioxidant Healing Mist
8.0 oz $19.99

Spritz on face, neck, arms anytime during the day. Especially after you come in from the sun. Keep it handy in the fridge for an even more refreshing experience.
Made with Soothing Aloe Vera & Green Tea to combat free radical damage from the sun, & Lavender to calm and sooth summer scorched skin.
Aromatherapy Body Splash
8.0 oz $9.99
Tantalizing body splash to cool and scent summer skin. Made with a blend of Adiva House feel good Essential Oils.
Lavender and Vanilla
Jasmine & Rose
Orange & Patchouli
Moisturizing Lip Balms

$1.99 ea or 3 for $5.00
Moisturizing lip balm with vit E and shea butter
Orange Vanilla Mint
Peppermint
Raspberry Chocolate
Aromatherapy Chakra Bracelet
Aromatherapy Chakra Bracelet Healing Lava Stone 7 Bead Natural Oil Diffuser
Stress Buster Aromatherpy Sachet
$9.99
Place this Lavender, Peppermint & Flax Seed filled stress buster over your eyes and forehead to relieve all the days tension & stress headaches! Can be heated gently or use after cooling in the freezer